Portable Appliance Testing (PAT)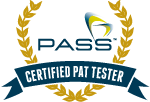 We are certified PAT Testers with Certified by PASS, a national training company with many years' experience training people in PAT testing. 
No. OF TESTS
COST
Up to 50 appliances
£1.25 per appliance,
plus £30.00 call out fee
51+ appliances
£1.25 per appliance for the 1st 50 appliances,
£1.00 per appliance from 51+, 
plus £30.00 call out fee
Areas we cover
We cover all of West Cornwall, so anywhere within Penwith and Kerrier.
Book your Portable Appliance Tests now
To book your tests, or to get more information please contact Les Veal on 01736 334665, or email This email address is being protected from spambots. You need JavaScript enabled to view it. .
About Portable Appliance Testing
Portable Appliance Testing is a mandatory Health and Safety Regulation governed by a Code of Practice issued by the Institute of Electrical Engineers.
It is our aim to make it simple and cost effective for you to discount eyeglasses online comply with Health and Safety regulations and to promote a safe working environment; for electrical safety compliance, testing and certification will bring you peace of mind for the safety of your employees and confidence in the event of a Health and Safety Inspection.
Maintaining a compliant PAT testing frequency does more than fit the Electricity at Work Regulations 1989 and the Health & Safety at Work Act 1974; it's an essential practice that ensures both your employees and your business are kept safe and fully functional.